Hello guys, welcome to my What I Ate Wednesday Party! I thought it would be fun to do a what I ate on holiday edition (this was from last Wednesday), especially as I enjoyed some very tasty eats!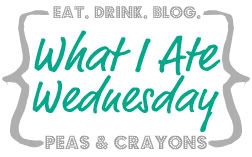 I started my last day in Brighton with a run through Hove and then along the beautiful Brighton seafront:
As my legs were pretty tired I just did a relaxed 10k in 57 minutes followed by some abs and core exercises in my room. To refuel I drank a yummy carton of vanilla soy milk:
After getting washed and dressed I snacked on an apple and a handful of raisins to keep me going:
Then I headed into Brighton to enjoy a tasty brunch at Iydea:
This was a chai soy latte with the granola bowl – the granola was very tasty accompanied by the fresh fruit and soy milk but it was a little on the small side for me! After some shopping I made a beeline for Starbucks to indulge in my favourite Soy Mocha Frappe:
So so good! For lunch I decided to make a return visit to the utterly wonderful Aloka. During the day their cafe serves a hot and cold salad bar which really reminded me of the Whole Foods salad bars!
I filled my plate with so many delicious dishes! This included a base of leafy greens, quinoa and roasted pepper salad, potato and cauliflower curry, Moroccan chickpea salad, potato skins stuffed with millet and toffutti cream cheese, sweet potato and millet mini burgers, beetroot salad and sweet potato and millet chard wraps (which I will be recreating!) For a little dessert I decided to treat myself to a scoop of the raw vanilla and maca ice cream:
This was insanely good! The cashew base made this amazingly creamy :-)
After a little more shopping I made my way back to my Aunts house, picking up a bag of fresh fruit from her local whole food store (so jealous that she literally has one 5 minutes from her house!) I made myself a giant fruit plate containing watermelon, cherries, an apple and a nectarine:
My appetite was ravenous that day! Dinner was a slice of vegan gluten free pizza from Infinity Foods with lots of leafy greens and hummus:
Followed by more fruit, watermelon and strawberries!
Such a day of tasty eats, I wish I could enjoy meals out like that everyday :-)
How often do you treat yourself to eating out? Being mostly vegan its usually more of a hassle than anything else to be able to eat out, at least where I live. Brighton, with its many veggie and vegan options was so refreshing!
Does your town or city have many options for healthy eating out?
Have a great Wednesday!