Hope you all had a good Summer Solstice! I'm happy to admit I'm a bit of a hippy chick at heart and love the solstices – I like feeling in tune with the changing of the seasons and the cycles of nature :-)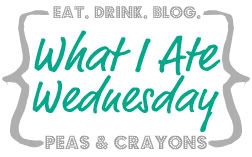 This isn't what I ate Wednesday, rather I thought I'd blog what I ate yesterday (Tuesday) instead! I had been hoping wake up to the Summer Solstice like this:
Source
Instead I ended up with this:
Source
I still enjoyed doing my Yoga for Runners though, even if it was a bit gloomy in my living room!
After my usual lemon and warm water I made an utterly fantastic breakfast:
Peanut butter puffins cereal, strawberries, Sojade plain soy yoghurt and PB&Co White Chocolate Wonderful sauce with Almond Teeccino 'coffee' sweetened with stevia. This was so good, the strawberries were huge and so sweet and the nut butter sauce mixed with the yoghurt and the puffins was heavenly. Not surprisingly for such a big bowl, this kept me full for hours!
I was at a training course for work in the morning and then came and worked from home in the afternoon. Lunch was a big salad containing romaine, watercress, carrot, cucumber, red onion, red pepper, sugar snap peas and marinated tofu with lots of Braggs liquid aminos:
I also had a sliced pink lady apple and some frozen grapes:
Why oh why have I just discovered the pleasure of frozen grapes? These were delicious!
Mid afternoon I snacked on a divine Cocoa Mint Nakd Bar along with a big mug of green tea (probably my 5th cup!):
I hit the gym a little later and did a total of 30 minutes of intervals on the cross trainer, step machine and bike followed by yet another awesome Body Pump class.
For dinner I had a second portion of a big Veggie Chilli I made on Monday along with some brown rice, steamed greens, broccoli and asparagus:
Yes, this was a huge plate but I was really hungry :-) I have to say my Veggie Chilli really is absolutely gorgeous and is so simple to make, I just love it.
For dessert I had a big bowl of cookies and cream protein ice cream using 1.5 scoops of cookies and cream spiru-tein, ice, water, xanthan and guar gums and some agave. I topped with chocolate covered sunflower seeds:
I could eat big bowls of protein ice cream all day long I think!
Did you do anything to mark the Summer Solstice? One day I would love to go down to Stonehenge or one of the more local stone circles and watch the sunrise.
Has summer started where you are? Any holiday plans? I'm off down to Brighton again in a couple of weeks, I am really hoping for some sunshine by then!
Hope your having a great week :-)